The
Ahava ve Ahba
is the first Jewish Egyptian congregation in the United States. Established in 1963 on a rented space provided by the Magen David congregation on 2066 67 street in Brooklyn NY 11204.
Its first rabbi was Halfon Savdie, with a committee made up of Mr. Gabriel Chehebar, Joseph Barnathan, Salomon Harari, Joseph Hamaoui, Chaya Israel, Isaac Salem.
In 1972 the congregation moved to a rented space in the Young Israel of Ocean Parkway one block away from its present location.
In 1979 the congregation moved to its new building 1801 Ocean Parkway Brooklyn, NY 11223
In 1975 Rabbi Halfon Savdie moved to Israel and was succeeded by Rabbi David Choueka who later moved to Mexico.
Rabbi Jacob Israel held the position of Rabbi of the congregation after Rabbi David Choueka's departure
In 1984 Rabbi Shimon Hai Alouf arrived from Israel and became the Rabbi of the congregation.
In 1993 Rabbi Haim Shaul joined the Ahaba ve Ahva serving with Rabbi Shimon Hai Alouf.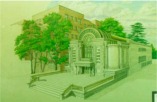 Due to an expanding community, the Ahaba ve' Ahva acquired a new location on Ocean Parkway presently under construction.